Our office has been a leader in providing real back pain relief in Cleveland, Ohio since January 2011.  We are one of the few places that CONSISTENTLY gives REAL, THERAPEUTIC MASSAGES.
If you are suffering from general, chronic lower back pain and you have come to the right place.
A Huge Problem
Back pain continues to be a huge issue in this country and around the world:
It results in more than 264 million lost work days every single year
It is the third most common reason for visits to the doctor
It can diminish your overall quality of life
For millions, back pain becomes chronic
About 80% of the population will experience back pain at some point
Most back pain is GENERAL – meaning it is not caused by injury, a car accident, arthritis, or a fracture
Worldwide – back pain is actually the leading cause of disability
One-half of all working Americans admit to having back pain symptoms each year. Back pain accounts for more than 264 million lost work days in one year—that's two work days for every full-time worker in the country. Experts estimate that up to 80% of the population will experience back pain at some time in their lives.
The High Cost
The healthcare costs for Americans adds up to about $50 billion a year.  It would round out to about $100 billion if you were to add in lost wages and decreased productivity.  But, what many people do not realize that spending a little money once a month, can alleviate back pain or at least manage it so it is not affecting your life.
Many People Seek Chiropractic Care
The good news – Most people with low back pain do recover.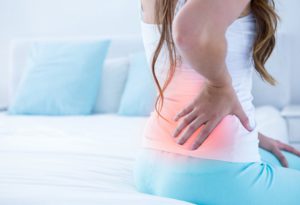 Many clients are already getting chiropractic treatment.  This is a great start but chiropractic treatments should be paired with skilled massage therapy.  I used to work out of two different chiropractic offices so I understand the importance that massage plays when it comes to back pain.  It used to be that most chiropractors had a massage therapist on-site, but because of a massive change of rules concerning insurance billing, many do not.  
Massage can be done WITH chiropractic care or you can alternate between the two to see which one gives you the best relief.  Most clients find that utilizing more than one solution, helps the most.  This may or may not include chiropractic treatments.  Some clients opt for massage, yoga and using a foam roller.  Some get chiropractic treatments a few times a year and massage the rest of the time.  Others choose massage and strengthening their core (back and ab muscles).  You have to find what works for you.
Our Sessions Bring Relief
Our sessions combine acupressure, deep tissue, hot stone therapy (including hot stone deep tissue), Swedish massage and a therapeutic cooling gel to create what we call DEEP MUSCLE THERAPY.  We target the lower back, glutes (gluteus medius and minimus) and hips in a special way in order to bring real, lasting relief.
Best Results
The clients who get the best results are those who simply listen to our advice.   If you have chronic pain that has been going on for a long time, then you will need to commit to at least 3 sessions spaced 3-4 weeks apart.   Massage therapy was never meant to solve all problems in one visit (although many times it can seem like it).
Setting An Appointment
To set an appointment, please TEXT or call Donna at 216-339-3401.  We offer daytime, evening and weekend appointments.   We see texts FIRST.
The following two tabs change content below.
Donna Agrinsonis
Donna Agrinsonis is a massage therapist licensed through the Medical Board of Ohio. She serves clients through her massage practice – Heavenly Healing Hands Massage Therapy – located in the heart of Beachwood, Ohio. She and her staff specialize in couple's massage, deep tissue, relaxation massage, and sports massage. Donna is also certified in prenatal massage. Donna has a background working in high-end spas, chiropractic clinics and she used to head up the massage services at a prominent country club in Beachwood. All sessions offered through her practice are super therapeutic and contain some form of hot stone therapy and real bodywork designed to have clients moving better, experiencing less pain, and feeling like a brand new person…
Latest posts by Donna Agrinsonis (see all)