Please contact us for the temporary price list AND for any Covid-19 updates or adjustments.  Text Donna at 216-339-3401.
Please note:  One of the reasons we have ridiculously great reviews online is because we actually do a lot of extra work on any areas of pain or discomfort.  As such, if you book a one hour session, we may not be able to work on your entire body if you have several areas of pain or discomfort.  We are also able to customize your session for you, so if you want more work on your feet or back, all you have to do is request that.
Couple Massage Deposit
A couple massage deposit is required.  It is $50 and this amount is deducted from the full cost of the couple massage.  You simply pay the difference when you come in.  We literally turn away 5-7 couples each and every week, so when a couple does not show up, it BLOCKS other couples from getting in.  The deposit is designed to cut down on no-shows.
Number One For Couple Massage for Ten Years
Since 2010, we have served countless couples from all over the U.S. and locally. We have also had clients from the United Kingdom, Canada, and the Caribbean Islands! One thing I keep hearing again and again – For those clients who get a lot of massages around the U.S. and even in various areas of the world – they say ours is either one of the best they have ever experienced or IS the best…
Our Heavenly Stones Couples Massage has become our most requested service and the one that we are most known for. Our sessions are much more than just a massage – they are an experience. It is the reason that so many couples choose to come to us when they are celebrating an anniversary, birthday, holiday, or other special occasion.
Two Options
As we go into winter and with the Covid – 19 number rising, you will have two options as to couple massage.  
Two Therapists: This is the normal option with two therapists working on the both of you at the same time.  Those are only offered on a limited basis so certain days and certain times of day.
One Therapist:  Like I have told clients before, we are in the middle of a pandemic.  Clients need to be more flexible.  Currently, we have about 8 couples who chose to come in together and they only want me to work on them.  I work on one person.  There is about 15 minutes between so I can set up for the 2nd person and then I work on the 2nd client.  The advantage of this is that you both get me to work on you and it is somewhat safer because rather than 4 people being in the office, there are 3.  The other advantage is this can be done ALL KINDS OF HOURS of the day, rather than only when two therapists are available. 
Heavenly Stones Couples Massage
If you have never experienced a massage with warmed stones you are in for a real treat. The session is the ultimate when it comes to deep relaxation. Heated stones bring about an intense sense of peace and tranquility and the experience is deeply soothing and restorative. Warmed stones are used to help clear toxins, soothe the nervous system, and gently balance your body's energy centers. Your session also includes a wonderful foot massage (that is enhanced with stones) which increases your overall energy level and decreases your stress level. Then, we take it a step further by using the stones in areas where clients have built-up areas of tension or discomfort to perform varying levels of deep tissue work. Clients report feeling super relaxed and rejuvenated. Many clients tell us that they are able to sleep much better for days after their session.  
Hot Stone Therapy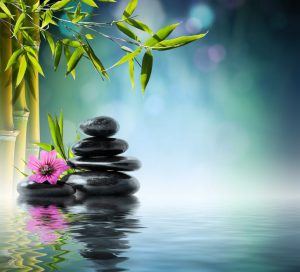 I always get tickled when people make faces over our mention of hot stone therapy. I swear people think we are going to put piping hot stones on their body! LOL. We simply enhance your massage session with WARMED stones that feel like heaven on earth! You are getting a real, therapeutic massage but the warmed stones mixed in provide soothing comfort, deep tissue work that FEELS better to you, and a level of relaxation that cannot be achieved with any other massage modality. All of our clients are very pleasantly surprised at how wonderful the warmed stones feel during their massage. As a result, our Heavenly Stones Couples Massage is the session that we get the most referrals for. Clients contact us and ask for it by name.
Not Just Any Ole Massage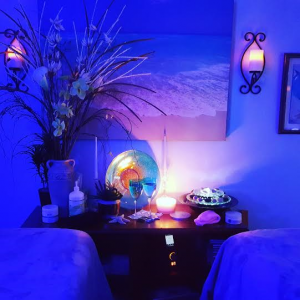 Clients, over the years, have continued to tell us that they get soft, surface massages at a lot of other spas and massage places around town. We are different in that we try to provide a massage that not only feels good but that incorporates real bodywork so you feel good AFTER your session. We include a lot more deep work than most places so when we are done you are moving better, have less pain and discomfort, and you KNOW you have just had a great massage. With us you get:
Free essential oil aromatherapy in your massage cream and your foot cream
The best spa music and additional music collections for your session
Hot stone therapy at no additional charge
Deep muscle therapy – For areas where you have chronic pain or discomfort we utilize a cooling gel + deep tissue + hot stone therapy to create the deepest therapy possible for your muscles at no additional charge
Wonderful aromatherapy in the room created from essential oils and our exotic scented candles
A super warm and soft massage table
The most plush client comforts and high-quality, non-greasy massage cream
Premium chocolates
A meticulously decorated massage room that clients say IMMEDIATELY helps them to relax
Highly-skilled therapists
Client Testimonials
We have some of the best client testimonials in the area. You can find client reviews on Google Business Pages (Maps), our Facebook page – https://www.facebook.com/HeavenlyHealingHandsMassageTherapy/ and on our website at http://www.ohiosbestmassage.com/testimonial/. The testimonials on our website are from post-session review sheets clients fill out so we try to update the website with them as fast as we can.  By the way, we currently have an entire folder of new client testimonials from the office that have not been entered (because we have been very busy this year so far)!
Scheduling
We respond to texts and phone calls between the hours of 6 a.m. and 11 p.m. daily – even on the weekends and holidays. Texts are responded to first. We offer daytime, evening, and weekend appointments (and yes we can do Sundays). A deposit is required.  All sessions are scheduled ahead of time – no walk-ins. You may reach Donna by calling or texting 216-339-3401 to schedule your session.
The following two tabs change content below.
Donna Agrinsonis
Donna Agrinsonis is a massage therapist licensed through the Medical Board of Ohio. She serves clients through her massage practice – Heavenly Healing Hands Massage Therapy – located in the heart of Beachwood, Ohio. She and her staff specialize in couple's massage, deep tissue, relaxation massage, and sports massage. Donna is also certified in prenatal massage. Donna has a background working in high-end spas, chiropractic clinics and she used to head up the massage services at a prominent country club in Beachwood. All sessions offered through her practice are super therapeutic and contain some form of hot stone therapy and real bodywork designed to have clients moving better, experiencing less pain, and feeling like a brand new person…
Latest posts by Donna Agrinsonis (see all)