For six years our office has made it our mission to create sessions that reflect the various needs of our clients.  During that time, we have seen a huge number of traveling clients.  In fact, about half of the couples who come in are here visiting friends or family, are here on vacation, or here for business.  So we developed a session for couples that is based on our single session of the same name:
Traveler's Delight Couple Massage
This session specifically targets the areas we know get stressed when traveling by car or plane.  We target the legs, feet, neck/shoulders, and the lower back/hips, with deep tissue and hot stone therapy and this is mixed with relaxation massage.  We also do what we call deep muscle therapy – which is simply a mixture of hot stone therapy with deep tissue while using a therapeutic muscle gel spa product that our clients love!  If all this were not enough, we also throw in our Heavenly Foot Massage so that our couples emerge feeling brand new!  One hour session/couple – $180; 75 minutes – $210; 90 minutes – $240.
What Else You Get With Us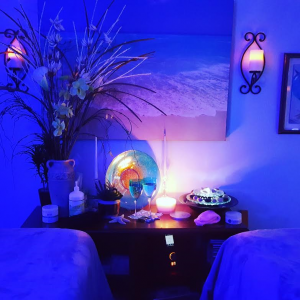 Aside from the fact that we provide a lot more therapeutic and deep work than other places around town and we do more than just one standard couple massage, we also go out of our way to make your experience memorable and super comfortable:
Free essential oil aromatherapy in your massage cream and your foot cream
The best spa music and additional music collections for your session
Hot stone therapy at no additional charge
Deep muscle therapy – For areas where you have chronic pain or discomfort we utilize a cooling gel + deep tissue + hot stone therapy to create the deepest therapy possible for your muscles at no additional charge
Wonderful aromatherapy in the room created from essential oils and our exotic scented candles
A super warm and soft massage table
The most plush client comforts and high-quality, non-greasy massage cream
Premium chocolates
A meticulously decorated massage room that clients say IMMEDIATELY helps them to relax
Highly-skilled therapists
Client Testimonials
We have some of the best client testimonials in the area. You can find client reviews on Google Business Pages (Maps), our Facebook page – https://www.facebook.com/HeavenlyHealingHandsMassageTherapy/ and on our website at http://www.ohiosbestmassage.com/testimonial/. The testimonials on our website are from post-session review sheets clients fill out so we try to update the website with them as fast as we can.
Scheduling
We respond to texts and phone calls between the hours of 6 a.m. and 11 p.m. daily – even on the weekends and holidays. Texts are responded to first. We offer daytime, evening, and weekend appointments (and yes we can do Sundays). All sessions are scheduled ahead of time – no walk-ins. You may reach Donna by calling or texting 216-640-6851 to schedule your session.
The following two tabs change content below.
Donna Agrinsonis
Donna Agrinsonis is a massage therapist licensed through the Medical Board of Ohio. She serves clients through her massage practice – Heavenly Healing Hands Massage Therapy – located in the heart of Beachwood, Ohio. She and her staff specialize in couple's massage, deep tissue, relaxation massage, and sports massage. Donna is also certified in prenatal massage. Donna has a background working in high-end spas, chiropractic clinics and she used to head up the massage services at a prominent country club in Beachwood. All sessions offered through her practice are super therapeutic and contain some form of hot stone therapy and real bodywork designed to have clients moving better, experiencing less pain, and feeling like a brand new person…
Latest posts by Donna Agrinsonis (see all)