Ok, so are we bragging?  Um, maybe.  But it is true.  You see – we are different.  We do not just follow the crowd and do the same ole hot stone routine you will find in most area spas.  We have a refreshingly NEW way of delivering hot stone therapy that our clients simply rave about.  It is the one thing that we get the most comments about after a massage session…
Why We Do Hot Stones Our Way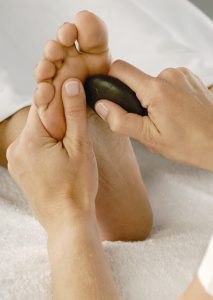 Before opening my own office, I worked through a medical massage company, through a couple of chiropractic offices, I did outcalls to hotels and client homes, I headed up the massage services at Canterbury Golf Club, and I also worked for a year and a half for two high-end spas.  It was in that spa environment that I learned to love everything spa-related.  While working at the Marengo Spa in the Hyatt in downtown Cleveland, I was taught the "spa" way of doing hot stone massage which entailed a lot of sitting of stones on the body and leaving them there while you did some massage around them.  As a part of my training, I received a hot stone massage from one of the head therapists.  I can still recall to this day that I DID NOT LIKE IT ONE LITTLE BIT.
I LOVE getting massages but that massage left me feeling like – well, I never wanted a hot stone massage again in life.  However, I knew that I had to deliver the hot stone massage while I was working there so I started devising my own way of doing it.  I would ask the clients if I could do it my way and they were happy to let me do my thing.  So, instead of sitting stones on the clients, I started using the stones IN the massage.  I mixed the stone work in with the massage strokes.  I also started using the stones to perform some of the deep tissue work.   If that were not enough – it also occurred to me to use the stones on the feet to take the foot massage to a whole new level. The clients absolutely LOVED it!
A massage that was heavily ENHANCED with hot stone work – was born…
The Power of Hot Stone Therapy
I knew early on that I wanted to use hot stones in my massage work.  I was simply drawn to stone work as some therapists are.  I now use some level of hot stone therapy is ALL of our sessions, including in prenatal massages.
I was initially drawn to stone work to have a way to help my hands to stay healthy for doing massage but I quickly learned that hot stone therapy offers a world of benefits for the client:
Detoxifies the body
Is deeply healing and restorative
The heat brings blood circulation to the area causing enhanced tissue healing
Reduces stress and anxiety
Greatly improves circulation
Takes muscle recovery to a whole new level
Enhances mental clarity and brings about a sense of peace
Allows for soothing deep tissue work
Alleviates pain and muscle tightness
Takes relaxation to a whole new level because it directly affects the parasympathetic nervous system
It is the ultimate when it comes to stress reduction
What Type of Stones Are Used
We utilize the same basalt stones that most places use for hot stone massage.  These stones are smooth, round, and are of various sizes. The majority of the stones that we use were found in nature and are not manufactured…
However, again – we are different from most places.  Why?  Well for one thing we utilize a few stones that are very heavy and dense for use on the back and legs.  These stones hold heat really well and they feel heavenly to the client.  Secondly, we use stone tools – which are stones that are not round and instead are made in odd shapes.  These stones we can use to do deeper work in various areas of the body with more precision and effectiveness.  All of this helps to take your massage to a whole new level and turn your session into a true bodywork experience.
Are the Stones Hot?
No.  The stones are cooled a bit before they ever touch your body.  Plus, we have to be able to hold the stones in our hands, so they are only very warm once they touch your body.
Some Sessions to Try
Some of our most popular sessions are:  90 Minutes of Heaven, Traveler's Delight, Heavenly Stones Couple Massage, and Heavenly Relaxation Massage.  For a full list of our sessions VISIT OUR MAIN WEBSITE.
For a full list of our specials CLICK HERE.
To Schedule Your Session
Call or text me (Donna) at 216-640-6851 to set up your session.  We offer 60, 75, or 90 minute sessions.  We also have day, evening, and weekend appointments available.  If you are trying to get in before Christmas, please schedule asap as our openings will go fast.

The following two tabs change content below.
Donna Agrinsonis
Donna Agrinsonis is a massage therapist licensed through the Medical Board of Ohio. She serves clients through her massage practice – Heavenly Healing Hands Massage Therapy – located in the heart of Beachwood, Ohio. She and her staff specialize in couple's massage, deep tissue, relaxation massage, and sports massage. Donna is also certified in prenatal massage. Donna has a background working in high-end spas, chiropractic clinics and she used to head up the massage services at a prominent country club in Beachwood. All sessions offered through her practice are super therapeutic and contain some form of hot stone therapy and real bodywork designed to have clients moving better, experiencing less pain, and feeling like a brand new person…
Latest posts by Donna Agrinsonis (see all)