Want to experience a spa massage?  You need look no further.
We go out of our way to offer our clients spa setting massages outside of the spa environment.  We are the exact opposite of clinical and our clients have let us know that our office setting makes them feel welcome, at ease, and super relaxed even before the massage begins…
An Unusually Beautiful Massage Room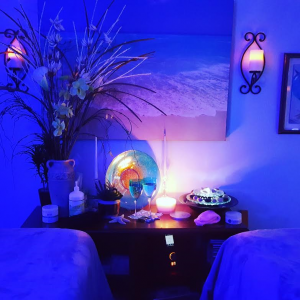 Our massage room is meticulously, and lovingly decorated with our clients in mind.  When we first opened our office, the first thing we did was to choose the most relaxing color on the planet which is something like a baby blue.  We chose super comfy massage tables and the most plush linens.  We have included all the client comforts – things like fluffy neck rolls and bolsters, super heated table warmers, plush blankets, and Kur face cradles.
The room is decorated in a way to depict a tropical beach.  You will find all the elements and colors from that setting:  blues, greens, off white, etc.  There are things in the room representing water, sand, rocks, sky, and grass.  If you look around you will find sea horses, star fish, tropical plants, and sea shells.  We basically have tried to create an oasis where clients can come and just be still for a time and receive a super therapeutic massage…
The Best Spa Products
We use the highest quality massage cream that was chosen so that clients would not have to worry about taking a shower or having the massage oil stain their clothing.  We create our own therapeutic foot cream that is designed to be soothing and healing to the feet.  We also utilize a high-quality cooling gel which provides extra therapy for sore muscles along with the hot stone therapy.
Aromatherapy in the Room
We have created our own room spray from the best essential oils that make you think of a spa.  This is one of the things that clients often comment on when they walk in.  We also use high-quality, scented candles.  It is funny, because even the tenants in the building tell us they know when we are working because that wonderful aromatherapy comes through the vents into their offices!
Resort-Quality Massages
Our goal from day one has been to create massage sessions that one might find in a high-end resort.  We also listen to what clients say and ask for and over the years our sessions have evolved to meet the needs of our clients.  We offer a variety of sessions including a special session for travelers.  It has been interesting, over the last 5 years, listening to many clients tell us that they get massages all over the world and that our session was either the best they had ever had or pretty darn close.    That, at least, helps us know we are doing something right.
The Best Therapists in the Area
We purposely do not use newbies right out of school like a lot of area spas.  All of our therapists are highly-skilled and seasoned.  Several of us also have a spa and/or chiropractic background.  We are all skilled in hot stone therapy, relaxation massage (Swedish and other modalities), foot massage, deep tissue, sports massage, and prenatal.  We are also all great at doing couple massages.
To Book Your Session
To book a single or couple massage session simply call or text Donna at 216-640-6851.  We offer daytime, evening, and weekend appointments.  No walk-ins.  By appointment only.  For a full list of our sessions go to the services page for www.ohiosbestmassage.com.
The following two tabs change content below.
Donna Agrinsonis
Donna Agrinsonis is a massage therapist licensed through the Medical Board of Ohio. She serves clients through her massage practice – Heavenly Healing Hands Massage Therapy – located in the heart of Beachwood, Ohio. She and her staff specialize in couple's massage, deep tissue, relaxation massage, and sports massage. Donna is also certified in prenatal massage. Donna has a background working in high-end spas, chiropractic clinics and she used to head up the massage services at a prominent country club in Beachwood. All sessions offered through her practice are super therapeutic and contain some form of hot stone therapy and real bodywork designed to have clients moving better, experiencing less pain, and feeling like a brand new person…
Latest posts by Donna Agrinsonis (see all)