We have been in business for a while now and I get to hear a lot from clients who come in:
I have had prenatal clients tell me that area spas gave them a fluffy massage and barely used pressure and they used one pillow to help them get comfortable.

I have had many clients who have gotten deep tissue in the past – STOP getting massages because their therapist hurt them by using way too much pressure. Most of these clients have chronic pain – but yet they AVOIDED getting massage because a therapist hurt them!

I have had clients tell me they are afraid of hot stone massage because some therapist sat stones on them and they either got burned or they were very uncomfortable during the session (we do not leave stones sitting on clients by the way).

We have had a ton of clients say they have gotten massage in the area and, while they felt fine while the therapist worked on them, when they got up from the table – they still were in pain and just felt like someone was just rubbing on them – with no real results.
Just shaking my head…
We believe in doing REAL BODYWORK in addition to relaxing and pampering you.  We provide that rare combination of true pampering + therapeutic bodywork.  For clients who need deeper work or sports massage, we are one of the few places that provides a much deeper massage that is enhanced with powerful hot stone therapy.
Our Promise To You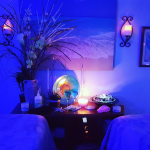 When we are done working on you – you will feel like a brand new person.  You will KNOW you had a great massage and a phenomenal foot massage.  You will feel SUPER relaxed and de-stressed.  You will find out what SUPER pampering looks like.  You will get to experience one of the most beautiful and meticulously decorated massage spaces in the area.  Any areas where you have pain or discomfort will feel much better OR you will no longer feel pain.  Lastly, you will feel respected, appreciated, and you will know your therapist took the time to actually LISTEN to what you requested…
Heavenly Healing Hands Massage Therapy has been serving the Cleveland, Ohio area since 2010 and we help clients to get out of pain, get stress under control, improve their overall health, well-being, and quality of life with a skillful, caring approach to massage and bodywork.
We have served countless clients from all over the U.S. and locally. We have also had clients from the United Kingdom, Canada, and the Carribbean Islands! One thing I keep hearing again and again – For those clients who get a lot of massages around the U.S. and even in various areas of the world – they say ours is either one of the best they have ever experienced or IS the best…
A Powerful Approach to Bodywork
We utilize various powerful techniques to bring real pain and stress relief to their clients.  We specialize in:
The area's best hot stone therapy (super soothing and therapeutic)
Deep tissue massage for areas of pain or discomfort
Relaxation massage (including Swedish and Hawaiian Lomi Lomi)
Sports massage – healing; restorative; powerful recovery
The BEST foot massage in town
A real Prenatal massage – featuring REAL pain relief done by therapists CERTIFIED in prenatal
The area's BEST couple massage
Area's ONLY Traveler's Massage
Sessions customized to your needs (no canned sessions)
Scheduling Your Session
To schedule your customized session simply call or text Donna at 216-640-6851.  We offer daytime, evening, and weekend appointments.  For weekend sessions, it is best to schedule way ahead of time to be sure you can get in.
The following two tabs change content below.
Donna Agrinsonis
Donna Agrinsonis is a massage therapist licensed through the Medical Board of Ohio. She serves clients through her massage practice – Heavenly Healing Hands Massage Therapy – located in the heart of Beachwood, Ohio. She and her staff specialize in couple's massage, deep tissue, relaxation massage, and sports massage. Donna is also certified in prenatal massage. Donna has a background working in high-end spas, chiropractic clinics and she used to head up the massage services at a prominent country club in Beachwood. All sessions offered through her practice are super therapeutic and contain some form of hot stone therapy and real bodywork designed to have clients moving better, experiencing less pain, and feeling like a brand new person…
Latest posts by Donna Agrinsonis (see all)