A personal note from the owner:  "We waited to fully open our office much later than other spas and massage offices in Ohio.  To be honest, we almost shut down permanently.  I had to figure out how I could still provide massage therapy services and keep my clients, my other therapist, and myself safe."
MANDATES AND REQUIREMENTS FROM THE GOVERNOR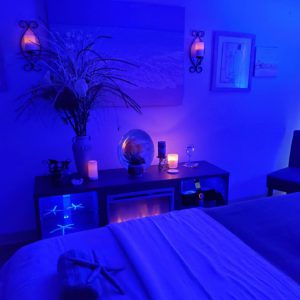 When Governor DeWine said we could open, he hit all cosmetology and massage therapy businesses with a 3-page document which contained mandates and requirements for opening.  That document alone delayed our opening because we literally had to redo our main massage space. 
We also could not offer couple massage with two therapists and two clients in the same room, which meant we had to redesign everything so that we could see couples, but not in the same room.  A huge part of our practice happens to be couple massage.  We also had to not have linens out in the open so we had to invest a lot of money in two huge cabinets to house all linens behind closed doors.  As a result, we basically totally redesigned our main massage room.
WE HAVE GONE ABOVE THE MANDATES
We are using a very powerful and expensive air purifier in our office (and in our home) to help clean the air several times in an hour.  It is made for particles the size of coronovirus and has a top-rated hepa filter.  The unit is listed on the Consumer Reports list of air purifiers.  We have two different units at the office and one unit at our house.  We were not required to have an air purifier but for us, it WAS required per our own standards.  
OTHER THINGS WE ARE DOING
Since we were shut down in March of this year, we are doing the following to help keep everyone safe:
Both therapists and clients wear a mask and all clients must use hand sanitizer upon entering our office.
All common surfaces are being meticulously sanitized and wiped down daily with a  CDC approved disinfectant and we spray all surfaces that are touched by us or clients with Lysol spray several times daily.
We scrub our hands and forearms after working on each client and we wash our hands prior to working on a client.
We ask lifestyle type questions of every client who comes in for an appointment and ask if anyone has any Covid-19 symptoms.
We have decided that if we discover that a client is of the type who does not believe in wearing masks and who willingly engages in unsafe behavior (like frequenting bars and not wearing a mask) we will not allow them to come in.
We are choosing to not work on clients who travel to our area from certain states with an extremely high rate of Coronovirus.
We also made the decision when opening back up to LIMIT the number of clients coming in so our exposure to clients is limited.
LIFESTYLE CHANGES
If you are considering coming in for a single appointment or sending someone else in, it is important to note that I have and am continuing to SEVERELY LIMIT where I go and the things that I now do when leaving my home.  I don't drink so no bars.  I wear a mask everywhere I go.  I refuse to eat at an indoor restaurant – I do take-out only.  I shop for groceries but I do so when things are not busy or I shop very quickly so as not to spend a lot of time in a store.  I also opt to use Instacart a lot so I will often have groceries delivered.  I have returned to the gym but I refuse to work out anywhere except for the pool area at Lifetime Fitness.  When I do the lap pool, I stay away from people and I try to go early morning so there are just less people anyway.   I have also chosen to not go to any parties or large gatherings until this pandemic ends.  I do not go around any family members unless I know they are also being safe in their activities.
I am doing all these things for my own safety, but also because I know I am seeing many clients who are also at high risk or who have compromised immune systems.  I also have a new grand daughter, who as I write this is one month old, so I have to stay safe so I can go around her.  If I go to her house then I take the air purifier with me and if they come to visit, I am running my air purifier.  Actually, if any of my family visits (who also live low risk lifestyles) I am running the air purifier and we try to do things on the patio whenever possible.
I do realize this is a long post, but for those of you who have been putting off getting regular massage or who know you need to book but have been afraid to come in, I know this detailed post is needed.
TO SET AN APPOINTMENT
To set an appointment with me, call or text Donna at 216-339-3401.  I see texts first and can generally respond right away or at least within 60-90 minutes.  We offer afternoon, evening and some weekend appointments.  
The following two tabs change content below.
Donna Agrinsonis
Donna Agrinsonis is a massage therapist licensed through the Medical Board of Ohio. She serves clients through her massage practice – Heavenly Healing Hands Massage Therapy – located in the heart of Beachwood, Ohio. She and her staff specialize in couple's massage, deep tissue, relaxation massage, and sports massage. Donna is also certified in prenatal massage. Donna has a background working in high-end spas, chiropractic clinics and she used to head up the massage services at a prominent country club in Beachwood. All sessions offered through her practice are super therapeutic and contain some form of hot stone therapy and real bodywork designed to have clients moving better, experiencing less pain, and feeling like a brand new person…
Latest posts by Donna Agrinsonis (see all)