Celebrate Sweetest Day With A Wonderful Massage
We are known for our couple massages around town.  Why?  Because we go all out in our efforts to make our sessions not only therapeutic but SUPER ROMANTIC.  We are also known for our soothing hot stone therapy mixed into a wonderful massage.  It is the reason why we get so many couples for date nights, wedding anniversary celebrations, birthdays, etc.
Changes Due to Covid-19
No location in town is supposed to offer couple massage with 4 people in the same room.  The Medical Board of Ohio and the governor all hit us with required mandates.  Your session this year will be done in two rooms.  However, our session is still romantic.  We are one of the few places that offers more romantic music collections and a romantic environment.  You can even still talk to your significant other during your session, if you like, but most don't because they are too busy enjoying their own massage!!
Scheduling Update
Session dates: October 16th, 17th, 18th.
Coming In From Out of Town?
About half of of our couples are from out-of-town.  Our office is located about 5 minutes from the nice hotels in Beachwood, Ohio and many of the hotel shuttles can drop you to our office.  We are also about 18 minutes from the downtown Cleveland area and so, even if you are not driving, we are reachable via Uber or Lyft.  We are located about 15 minutes from Independence and 25 minutes from the Airport.
What You Get With Us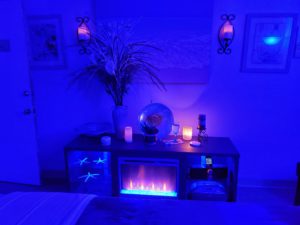 We have been doing couple massages for over 10 years.  Interestingly, we actually tried to stop doing couple massages at one point, early on, because it requires so much more in the way of scheduling, linens, and supplies.  However, we kept getting more and more referrals, clients kept wanting to come back year after year, and many couples would come back during the year because they enjoyed their couple massage so much – so couple massage has become one of the most popular service requests that we get.
For us – our couple's massage is one of the best things we offer and so we love to go all out in pampering our clients.  All of our sessions contain some level of:
Deep tissue – done to your level of comfort
Hot stone therapy – warmed stones ENHANCE your massage and is super SOOTHING and incredibly THERAPEUTIC and HEALING
Relaxation massage – incorporating various techniques including elements of Swedish massage and Hawaiian Lomi Lomi
Deep muscle therapy – for areas of pain or discomfort – we utilize a combination of warmed stones, cooling gel, and deep tissue – to give the deepest, most penetrating therapy to overworked muscles
Heavenly Foot Massage – yes our foot massage has a name! It combines a luxurious foot massage with a therapeutic cream, elements of reflexology, and hot stone therapy
Music choices – such as spa, romantic R&B, and smooth jazz
Highly-skilled therapists
A meticulously decorated massage room – that clients say helps them IMMEDIATELY relax
A true massage EXPERIENCE – not just a massage
Book Early
It is VERY IMPORTANT that you book early and get your deposit done right away.  Every single year we turn away 15-20 couples who call and we are not able to get them in because we can only see so many couples in a day.  Also, keep in mind, since many people work during the week, most couples try to schedule for the weekend before or after so those dates will fill early as well.
Sessions Available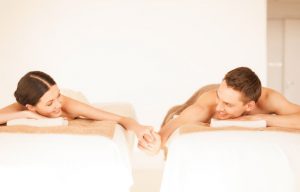 Heavenly Stones Couples Massage or Prenatal Couple Massage – The Ultimate in Relaxation –  This is the session we are known for!  Come experience hot stones unlike anything offered anywhere else in Cleveland.  Warmed stones are mixed in to ENHANCE your massage session – we work with the stones, using them as an extension of our hands to bring deep, soothing relaxation, healing, and pain relief to our clients. Your session is customized to your needs and deep tissue and hot stone therapy help to relieve pain, discomfort, and muscular tension and take relaxation to a whole new level.  $180 per couple – 60 minutes; $210– 75 minutes; $250 per couple – 90 minutes [the most deep tissue mixed with relaxation massage]
Deep Muscle Therapy/Sports Massage Couples Massage – The Ultimate in Sports/Muscle Recovery.  This session is great for couples who are very active, working out a lot, or traveling a lot and who may be experiencing a lot of muscle discomfort or pain. Deep muscle therapy is done in the specific areas where you have extra pain or discomfort – combining a therapeutic cooling gel with deep tissue and warmed stones to get down deep in the muscles.  Relaxation massage and our Heavenly Foot Massage completes the session so you emerge feeling like a brand new person.   $190 – 1 hour; $220 – 75 minutes; $260 – 90 minutes [Sports massage; mostly deep tissue]
Specialty Music
We have found that more than half of our couples prefer to have something other than regular spa music for their Valentine's Day session so we offer several other music collections to suit your taste.  This year you can choose from several Romantic Old School R&B collections, Smooth Jazz, or spa music.
Extras At No Charge
Enjoy the most comfortable, super-heated massage table in the city covered with plush massage linens.  We also provide premium chocolates to our clients and they love it!  You can also have essential oil aromatherapy in your massage cream that will leave you feeling fabulous.
Set Your Appointment
To schedule, call or text Donna at 216-339-3401. We see texts first.
The following two tabs change content below.
Donna Agrinsonis
Donna Agrinsonis is a massage therapist licensed through the Medical Board of Ohio. She serves clients through her massage practice – Heavenly Healing Hands Massage Therapy – located in the heart of Beachwood, Ohio. She and her staff specialize in couple's massage, deep tissue, relaxation massage, and sports massage. Donna is also certified in prenatal massage. Donna has a background working in high-end spas, chiropractic clinics and she used to head up the massage services at a prominent country club in Beachwood. All sessions offered through her practice are super therapeutic and contain some form of hot stone therapy and real bodywork designed to have clients moving better, experiencing less pain, and feeling like a brand new person…
Latest posts by Donna Agrinsonis (see all)