Sports Massage in Cleveland comes in two flavors:  PRE and POST EVENT sports massage.  We specialize in post-event or RESTORATIVE SPORTS MASSAGE. 
Our LADY SPORT session is specifically designed to help your body and muscles to recover after intense exercise or sports or prepare you to do more of the same.  We utilize hot stone therapy, Swedish massage (relaxation), Deep Muscle Therapy, and a healing sport cream to produce super results for our clients that they can feel the moment they get off the table.
**Please call or text Donna for current pricing.  216-339-3401. 
An excellent sports massage will:
accelerate your progress in the gym
help prevent injuries
help you excel at your sport
greatly decrease the amount of time it takes you to recover from intense exercise
reduce post-exercise or post-sport soreness
flush out lactic acid and toxins
help you feel like a brand new person (after you get off the massage table)
What We Specialize In
We offer RESTORATIVE sports massage that is best suited for after you have done your sport or workout.  Our work helps our clients keep doing what they love.
Since 2010, we have helped many clients with sports massage.   We specialize in helping clients who are participating in Crossfit; competitive swimmers; Pilates and Yoga instructors; those who are exercising a lot at the gym or who are new to working out and who are very sore; runners – especially those preparing for marathons and half marathons; and exercise or dance instructors.
Customizable
All of our sessions are fully customizable to your activity of sport.  Every activity or sport requires the use of different muscle groups.  We can either target your session, generally, to your activity or sport or we can target specific areas where you are having pain, discomfort, or muscle dysfunction.
We Take Recovery to a New Level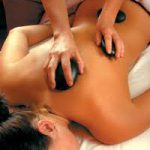 We are unusual in that we incorporate hot stone therapy into our sports massage sessions.  This makes our sessions especially suited for POST-ACTIVITY.  Sessions are highly restorative and healing.
By enhancing our sessions with hot stone therapy, we are able to provide an environment for SUPER RECOVERY.  The healing basalt stones really help the muscles to release quicker and the heat from the stones greatly increases the circulation in the area being worked.  This helps the body to heal itself, helps to flush out lactic acid from the muscles, and takes post-workout recovery to a whole new  level.
We also use a special spa product – a cooling gel – that allows us to accomplish deep muscle therapy.  This combined with the hot stones and deep tissue helps clients to emerge with little to no pain and with much greater range of motion in their joints.
Sport Session Options
Sports Bomb – This session is MOSTLY deep tissue, but includes hot stone therapy for accelerated muscle recovery.   This session is not appropriate for immediately after a marathon or immediately before. 
Heavenly Sport – This session is designed mostly to flush muscles with needed blood and nutrients, speed up recovery, increase circulation, help flush out lactic acid, and help your body to recover from things like marathons and half marathons, Cross Fit and other intense types of exercise and sporting events.  It includes much more hot stone therapy, Swedish massage, deep tissue in areas where it is needed, and an incredible deep tissue foot massage. 
To Book Your Session
Just call or text Donna at 216-339-3401.  We have daytime, evening, and some weekend appointments.  Absolutely no walk-ins.  You must schedule ahead of time.  Also, if you have more than 3 areas where you have pain or discomfort going on and you need to get work over your full body then you need to book the 75 or 90 minute session.
TESTIMONIALS
"Running 6 days a week for the last 5 years has started taking a toll on my body.  Plus I am getting older LOL.  So glad I came here.  I have not felt this good in a very LONG time!  Henri J.; Sports Bomb – June 2019
"All I can say is wow!  I just never knew hot stones could make such a difference in a massage.  Since I love Crossfit, I pretty much beat my body up all the time and your massage took about 80% of that crazy soreness away.  I know I need more session though, since I took so long to get worked on.  I will follow your advice though and come in more often."  Anthony W.; Sports Bomb – February 2019
"Wow!  I am a runner and I also do a lot of weight training and spinning classes so I am always sore.  I wanted to try out a new place for massage and found Donna online.   I am so glad I came here.  Never knew this place was right by my job.  Donna is very knowledgeable and really knows sports massage.  She explained what she was doing and why and really put me at ease.  I never had hot stone massage before but those stones are nothing short of AMAZING!  I could feel the soothing heat getting down into my muscles and I got up from the table literally feeling like I could go run a marathon!  And the most interesting thing of all is I did not have to lay there clenching my teeth the whole time because Donna knows how to make deep tissue somehow feel good!  I will DEFINITELY be back! "  Jeff V.; The Sports Bomb – July 2018
"Thanks Donna for helping my son overcome his swimming injury.  He literally could not practice or compete at all before seeing you.  Thanks to you he just came in 2nd place for his team!  We  will definitely be back!"  Janice S.; sports massage (for her teenager) – April 2018
"I came in for a sports massage and got so much more.  I never knew that hot stone therapy could be so helpful with muscle fatigue.  I am preparing for a half marathon and I needed deep work but not too deep.  You found all my trouble spots!  I got the perfect blend of sport therapy and soothing relaxation massage.  And thanks for the advice on stretches to do and foam rolling for after I train.  It is much appreciated.  You will be seeing a lot of me in the coming weeks.  Thanks Donna."  Helen A.; Sports Bomb (75 min session) – April 2018
"Heavenly Hands is a very comfortable place for healing and relaxation."  Stephen C.; The Bomb Sports Massage – February 2018
"Wow.  Hands down the best massage I have ever received.  I have traveled around the world and experienced many massages but Donna's techniques and her use of the hot stones is AMAZING.  I literally felt like someone gave me a brand new body.  I like knowing I can keep working out and can come here to get relief from my constant back pain.  So glad to see that some businesses still over deliver!"  Jason K.; The Bomb Sports Massage – January 2018
The following two tabs change content below.
Donna Agrinsonis
Donna Agrinsonis is a massage therapist licensed through the Medical Board of Ohio. She serves clients through her massage practice – Heavenly Healing Hands Massage Therapy – located in the heart of Beachwood, Ohio. She and her staff specialize in couple's massage, deep tissue, relaxation massage, and sports massage. Donna is also certified in prenatal massage. Donna has a background working in high-end spas, chiropractic clinics and she used to head up the massage services at a prominent country club in Beachwood. All sessions offered through her practice are super therapeutic and contain some form of hot stone therapy and real bodywork designed to have clients moving better, experiencing less pain, and feeling like a brand new person…
Latest posts by Donna Agrinsonis (see all)