A Most Treasured Gift!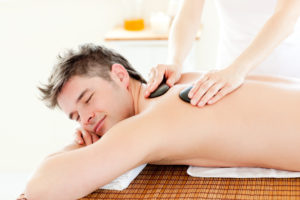 Massage is a great gift for Dads!  Our male clients love our sessions because I am one of the few female massage therapists who actually can use good pressure.  I am licensed, trained in sports massage, deep tissue, and hot stone therapy and my sessions are very healing and restorative.
I have worked on a ton of male clients for ten years.  They usually have more areas of pain, muscle tension, and discomfort because they are doing physical jobs, are weight training or exercising a lot, or they simply have either never had a massage or they do not take time out enough to go get one.
The man in your life, particularly if he is a Dad, is also under more stress than ever.  Our sessions are super therapeutic and take relaxation to a whole new level.  When he gets a massage with us, he will emerge feeling like a brand new person and will really appreciate a gift that is centered on him alone!
**Please note:  We are limiting the number of NEW male clients this year.  So, by purchasing a gift certificate, you are assuring that your guy can get in.
REVIEWS
We have the best client reviews in the area.  You can see them:
On our website at:  http://www.ohiosbestmassage.com/testimonial/
Facebook:  https://www.facebook.com/HeavenlyHealingHandsMassageTherapy/
Google Business Pages:  We have a 4.6 star rating.  CLICK HERE
Simply click the button below to make your purchase.  If you need a customized certificate, make your purchase then text Donna at 216-339-3401 and she will create what you need and send it via email in a PDF format.  
The following two tabs change content below.
Donna Agrinsonis
Donna Agrinsonis is a massage therapist licensed through the Medical Board of Ohio. She serves clients through her massage practice – Heavenly Healing Hands Massage Therapy – located in the heart of Beachwood, Ohio. She and her staff specialize in couple's massage, deep tissue, relaxation massage, and sports massage. Donna is also certified in prenatal massage. Donna has a background working in high-end spas, chiropractic clinics and she used to head up the massage services at a prominent country club in Beachwood. All sessions offered through her practice are super therapeutic and contain some form of hot stone therapy and real bodywork designed to have clients moving better, experiencing less pain, and feeling like a brand new person…
Latest posts by Donna Agrinsonis (see all)