Massage Gift Certificates available for purchase online.  See the GIFT CERTIFICATE BUTTON below. 
A Special Message From the Owner
"When you give a gift certificate for massage therapy, you are doing more than just giving a quick gift.  You are giving the gift of good health, pain relief, and stress relief all in one!  You are giving them something that is definitely all about them.  You are also introducing the person to a self-care service that they may enjoy for a lifetime.
You see, I got my first massage as a result of friends giving me a gift certificate to Spa Sydell in Atlanta.  It was for $350 and I broke it up into several massage sessions.  After that, I kept getting massage for many years and it became one of the most important things I did for self care."
People Need Massage Now More Than Ever
We have been in business for 12 years, and I have never seen so many clients coming in who are severely stressed, tired, and experiencing chronic pain.  We are all living in unprecedented times and I guarantee you that the people you are around every day are often suffering in silence. 
Females, in particular, are experiencing a ridiculous amount of stress because many of them have had to deal with children being home during the pandemic and even if the kids are back in school, they know that could easily change again.  Many clients also say they are working much longer hours and many are working from home in less-than-optimal conditions.
Clients Are So Happy To Use Their Gift Certificates
Seeing clients come in with a gift certificate never gets old.  They are often really excited, especially if they have never received massage therapy before or their last massage was a very long time ago.  Make someone's day by giving them a gift that is JUST FOR THEM.
Opening Up A Whole New World
I am sitting here thinking back to my very first massage.  I received that gift certificate to Spa Sydell in Atlanta.  That was over 20 years ago.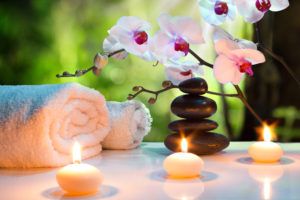 You see, I had NEVER had a massage before.  Never even thought about it.  But, in the first 5 minutes of being worked on I knew I would be a lifelong client of massage therapy.  
I was going thru a really stressful time in my life.  I got a bunch of massages with the gift certificate and after that I paid for regular massage myself.  Getting regular massage made a HUGE difference in my life.  So much so, that years later I became a massage therapist myself…
Special Occasions Galore
Gift Certificates are the perfect gift to give for a any special occasion.  Birthdays, wedding anniversaries, Valentine Day, Sweeties Day, Christmas, New Year's, Mother's Day, celebrating a new job or welcoming a person to a new city – these are all great times to give the gift of massage.  
We also offer an EXTRA SERVICE where if you need a more decorative gift certificate – all you have to do is order your gift certificate online and include all the information.  After that simply call or text Donna and let her know you need a CUSTOMIZED gift certificate and she will get your email address and any other info and get it prepared to send to you.
Purchase Your Gift Certificate
To purchase your gift certificate simply click the button below.  If you need more information then call or text Donna at 216-339-3401.
The following two tabs change content below.
Donna Agrinsonis
Donna Agrinsonis is a massage therapist licensed through the Medical Board of Ohio. She serves clients through her massage practice – Heavenly Healing Hands Massage Therapy – located in the heart of Beachwood, Ohio. She and her staff specialize in couple's massage, deep tissue, relaxation massage, and sports massage. Donna is also certified in prenatal massage. Donna has a background working in high-end spas, chiropractic clinics and she used to head up the massage services at a prominent country club in Beachwood. All sessions offered through her practice are super therapeutic and contain some form of hot stone therapy and real bodywork designed to have clients moving better, experiencing less pain, and feeling like a brand new person…
Latest posts by Donna Agrinsonis (see all)