Massage Gift Certificates available for purchase online.  See the GIFT CERTIFICATE BUTTON below. 
DECEMBER GIFT CERTIFICATE SPECIAL – Buy 1 gift certificate (of any type) and get to book a single session for half price!  Simply call or text Donna before your purchase and she will assist you with the special.  216-339-3401
A Special Message from the owner:  There has never been a better time to give massage therapy gift certificates.  When I left the legal field years ago to pursue a career as a licensed massage therapist, my main goal was to help clients to relieve stress.  You see, I had gone thru a lot and I knew all too well how chronic stress can affect every area of your life and health.  People of all walks of life, right now, are severely stressed and in pain.  Many are working from home and experiencing severe neck/shoulder and back pain.  Many women are juggling home-schooling with working from home and dealing with this pandemic.  Women, in particular, have been hit the hardest.  This is a wonderful time to give someone special a gift that will help them to feel like a brand new person.  
When you give a gift certificate for massage therapy, you are doing more than just giving a quick gift.  You are giving the gift of good health, pain relief, and stress relief all in one!  You are giving them something that is definitely all about them.

A message from the owner:   Since January, 2011, I have watched many clients come in with gift certificates purchased for them by their loved ones.  I can tell you that this type of gift is not only great for that day, but it is often an introduction to their very first massage.  That in and of itself is a game-changer.  For others who have received massage before, those clients are often so excited to come in to use their gift certificate!  You will get the satisfaction of giving a heart-felt gift.  
Opening Up A Whole New World
I am sitting here thinking back to my very first massage.  That was over 20 years ago, but a friend of ours gave my husband and I a package to Spa Sydell in Atlanta, Georgia.  My husband had zero interest in massage so I got to use $350 of services all by myself!  Hey!  That was great and  it opened up a whole new world to me.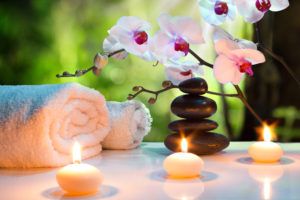 You see, I had NEVER had a massage before.  Never even thought about it.  But, in the first 5 minutes of being worked on I knew I would be a lifelong client of massage therapy.  I was going thru a really stressful time in my life.  I had little children and a very shaky marriage and things were not going well and my entire body was just knotted up!
Long story short, I bought one spa product but ended up using the majority of that $350 spa package on massages and after that I paid for massages myself.  Getting regular massages made such a difference in my life that years later I became a massage therapist myself…
You Never Know What People Are Going Thru
As a massage therapist, I have learned to pay attention to people.  I notice how they walk into the office.  Many are walking "funny" because they are in pain of some sort.  I notice how clients have hunched over shoulders and one shoulder is higher than the other.  I also notice that more clients are super stressed than ever before.  Many clients, when we ask them if they are experiencing any pain or discomfort, are unaware of what is going on with their body until we go to put pressure somewhere and they react.  
We have also had the opportunity to work on clients who have lost a friend or loved one and get to witness how massage helps them in their grieving process.  So when you are loving and caring enough to give someone a massage gift certificate, you could be helping them a lot more than you will ever realize…
Special Occasions Galore
Gift Certificates are the perfect gift to give for a special occasion.  Birthdays, wedding anniversaries, Valentine Day, Sweeties Day, Christmas, New Year's, Mother's Day, celebrating a new job or welcoming a person to a new city – these are all great times to give the gift of massage.  
We also offer an EXTRA SERVICE where if you need a more decorative gift certificate – all you have to do is order your gift certificate online and include all the information.  After that simply call or text Donna and let her know you need a CUSTOMIZED gift certificate and she will get your email address and any other info and get it prepared to send to you.
Chronic Pain Requires Multiple Sessions
Things like sitting at a desk all day, traveling in cars and planes, picking up little children constantly, car accidents, standing on your feet all day, walking for work on a daily basis, performing lifting and physical labor in your line of work, and living with prior injuries can often result in CHRONIC PAIN.  
Regular massage therapy will help to alleviate this pain and what I have seen is clients who started coming to us for one thing, totally resolving that problem after a number of sessions.
Chronic pain or even chronic stress requires several sessions to help the body to reset itself and release pain patterns.  This is where giving someone a series of sessions is often a good idea.  We offer several packages that will allow you to give a person a series of sessions.
Purchase Your Gift Certificate
To purchase your gift certificate simply click the button below.  If you need more information then call or text Donna at 216-339-3401.

Donations:  We have been hit hard this year because of this pandemic.  We did not receive the monies that other businesses received and in fact, we ended up spending a lot of money, in order to open back up under 3 pages of mandates from the State of Ohio and the Ohio Medical Board.  And now, with the Covid-19 numbers continuing to climb, we are struggling to keep our doors open. We are one of the best massage therapy offices in the area.  Please help us to still be around when this is all over…
***

The following two tabs change content below.
Donna Agrinsonis
Donna Agrinsonis is a massage therapist licensed through the Medical Board of Ohio. She serves clients through her massage practice – Heavenly Healing Hands Massage Therapy – located in the heart of Beachwood, Ohio. She and her staff specialize in couple's massage, deep tissue, relaxation massage, and sports massage. Donna is also certified in prenatal massage. Donna has a background working in high-end spas, chiropractic clinics and she used to head up the massage services at a prominent country club in Beachwood. All sessions offered through her practice are super therapeutic and contain some form of hot stone therapy and real bodywork designed to have clients moving better, experiencing less pain, and feeling like a brand new person…
Latest posts by Donna Agrinsonis (see all)