I get calls from prospective clients all the time, especially when they want to come in while celebrating a special occasion, asking me whether our office is nice.  They ask to see pictures and so I am hoping with this post to put you at ease and to let you know that in 4 years of being in our office, the vast majority of clients who come in are very pleasantly surprised by the decor of our office.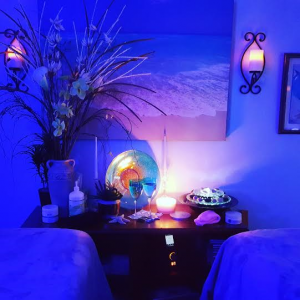 There is love in the details:  To appreciate the massage area, you have to understand that a lot of care has gone into the details of our massage room.  We started, when we first got the office, with the color on the walls.  It was important for me to find a color that would automatically help clients to physically relax and I learned that the color blue and particularly light blue is one of the most relaxing colors in the world.  So I told my leasing guy that is the color I wanted them to paint and at first, he told me it is just not done.  He said that the normal colors are white and muted colors but I insisted that our color is more of a baby blue so blue it was.  After that, I have meticulously added little items around the room to remind me of the beach.
The beach – My Happy Place:  You see – to me the beach and the ocean are my happy places.  I grew up in Atlanta, Georgia and as I raised my 4 children Tybee Island in Savannah, Georgia became our place we would go when we needed to let our hair down and act silly and just have fun.  It is the place where I always got to act like a big kid again LOL.  So it is a special place for me.  It is also my desire as I get older to travel to some of the world's most beautiful beaches and tropical destinations in the world so in the office you will see starfish and seashells and tropical flowers.  My hope is that as clients relax they can imagine themselves getting a massage on a tropical beach on a warm, sunny day….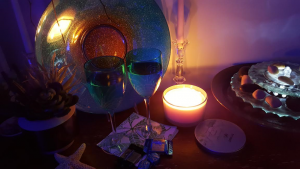 Wonderful chocolates:  We also provide our clients with premium chocolates.  This is something that I started doing from my very first client even when we were working from my home studio.  I always think back to high-end hotels and how they put a nice chocolate on your pillow.  I always thought that was a very classy touch and a nice way to honor visitors so I adopted the practice myself.  I actually tried to stop providing chocolates and was considering more "healthul" options when several clients complained and asked where the chocolates went!  So, I quickly learned that my clients were silently appreciating the gesture so now it is a permanent thing that we do at our office.
All the client comforts:  I have also gone out of my way to make our clients feel welcome and super pampered and comfortable for their massage therapy session.  We got rid of the stupid, hard bolsters that most places provide and opted instead for super fluffy large bolsters.  We use the softest face cradle and use only cloth face cradle covers.  Our massage tables evoke comments from the clients all the time because they are super soft, comfortable, super warm and covered with the nicest linens.  Soft fans drown out the noise in the building and we utilize some of the best spa music available.  We also use the best, non-greasy oils and provide essential oils in the massage oil and foot cream at no extra charge to our clients.
Our music is a step above:  We offer, particularly on holidays, Valentine's Day, and Sweetie's Day, alternative music collections for our couples.  On any day you have the option of choosing spa music or a more romantic, old school R&B music collection.  On holidays we provide you with a complete list of a wide array of music collections to frame your massage session.  We do this because we believe that a couples massage should be more than an appointment – it should be an EXPERIENCE.
We are spa-ish:  People also ask sometimes if we are a spa and the answer to that is no and yes.  We are not a spa because we are a massage therapy office.  I have been to all kinds of beautiful spas and I can recall now wanting to go there because they were so large and beautiful only to finally realize that I spent all of 5 minutes in the building part of the spa and most of the time in the massage ROOM.  The massage room, to me, should be the place that is meticulously decorated and comfortable.  However, since I spent more than a year working out of high-end spas around town, I have adopted a spa environment and I have attempted to bring in all the things one might find in a nice spa massage room.
The following two tabs change content below.
Donna Agrinsonis
Donna Agrinsonis is a massage therapist licensed through the Medical Board of Ohio. She serves clients through her massage practice – Heavenly Healing Hands Massage Therapy – located in the heart of Beachwood, Ohio. She and her staff specialize in couple's massage, deep tissue, relaxation massage, and sports massage. Donna is also certified in prenatal massage. Donna has a background working in high-end spas, chiropractic clinics and she used to head up the massage services at a prominent country club in Beachwood. All sessions offered through her practice are super therapeutic and contain some form of hot stone therapy and real bodywork designed to have clients moving better, experiencing less pain, and feeling like a brand new person…
Latest posts by Donna Agrinsonis (see all)